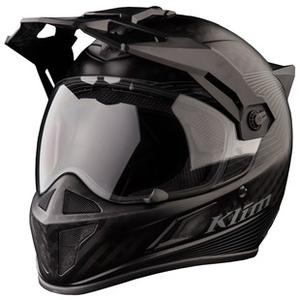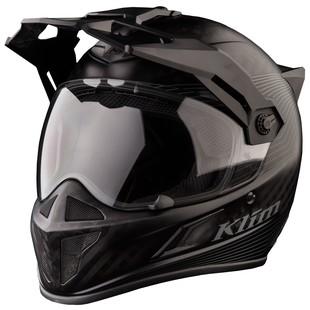 Klim Krios Sena 10U Stealth Helmet
Klim Krios Helmet With Sena 10U
Vanquishing the notion that an Adventure helmet must be a compromise falling short in performance of designated off-road and street-specific helmets, Klim has broken new ground with the Klim Krios Sena Helmet and demanded that no concessions be made in either department. High Performance Carbon-Fiber construction makes the Klim Krios Adventure Helmet one of the lightest weight adventure helmets ever created, while both ECE and DOT standards testify that Klim has not sacrificed strength of the shell or safety to do so. The Klim Krios Sena Helmet integrates industry-leading Sena Bluetooth technology seamlessly into the design for cutting-edge communication right out of the box. The Klimatek Fabric liner system and aerodynamically superior design combine to create an acoustically peaceful riding experience ideally suited to Bluetooth communications, music, and GPS directions. Four different riding configurations can be achieved quickly and without the use of tools, making the Klim Krios Sena 10U Helmet the most versatile, technologically advanced ADV helmet ever.
The Sena 10U for Krios features Bluetooth 4.0 and four-way group intercom communication up to 1 mile in open terrain with an impressive 10 hour talk time. Additional key features include music sharing, built-in FM radio tuner, Advanced Noise Control, an included wireless remote control as well as intuitive voice prompts and voice commands.
Features:
Includes Pinlock-ready clear face shield, Pinlock-ready dark smoke face shield and 1 Pinlock insert
Hand-laid full-carbon shell features a wide carbon weave
Aerodynamic visor and spoiler attributes to stabilize and put riders' heads at ease
Klimatek Fabric liner systems utilize adaptive smart foam technology and anti-microbial/bacterial fast-wicking textiles
Quick release shield and visor system requiring only a simple, 90 degree quarter-turn to lock/unlock
Intelligent ventilation system ensures riders will keep their cool when the terrain heats up
Airflow through the chin bar vent and a close-able top vent make it comfortable from slow-to-go
Includes chin curtain
Quickly transition from Street to Off-Road or to any of four riding modes quickly and without tools
Klim Radius Goggle compatible
Pinlock-ready Polycarbonate anti-scratch face shield
Meets or exceeds ECE and DOT standards
2 shell sizes: SM-MD, LG-3XL
Comes complete with Sena 10U for Krios including a wireless handlebar remote
Note: Helmet ships with a clear face shield.
---
We Also Recommend