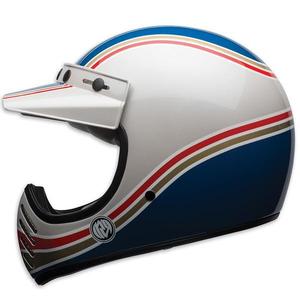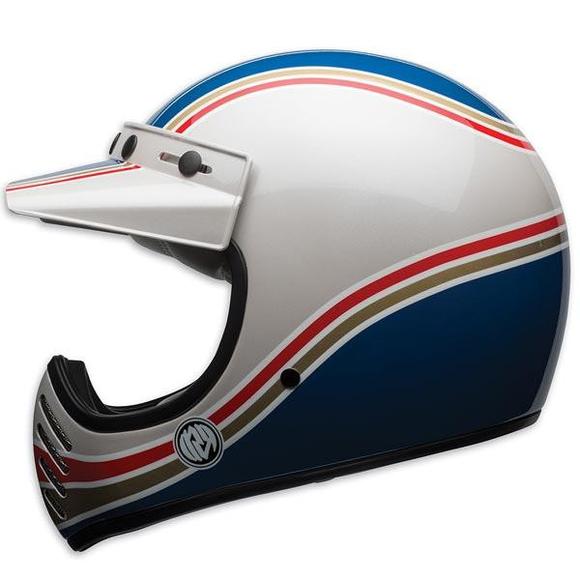 Bell Moto-3 RSD Malibu Full Face Helmet
Bell Moto-3 RSD Malibu Full Face Helmet

Cast from the past, the Bell Moto III Helmet is back and it's about time. It has broken the mold with its unique balance of enduring enduro styling with modern safety under the hood. Taking over 60 years of helmet engineering experience and focusing it on their legendary origins, Bell has revived their original Moto 3 design with new-fangled fiberglass composite construction, maximizing protection without upsetting the retro feel of the timeless lid.

Authentic vintage Bell Moto 3 helmets have been a very hot commodity in the chopper/bobber/cafe scenes recently selling for $455, $750, etc. on sites like eBay. Often imitated, you've seen many poser brands have jumped on the bandwagon with their version copies over the last year or so trying to get a piece of that core cool factor. Well now, the wait is over and you can have an authentic Bell Moto 3, brand new out of the box with the exact same look and terry cloth interior as the earlier production but with modern materials, fit and safety certifications.

Anyone can copy an original but in the Custom/V-Twin/Classic category authenticity is real currency and only the Bell Moto 3 can claim that attribute. Take for granted the authenticity and the Bell Moto 3 is still the superior product compared to the copy cats. The combination of authenticity, Bell brand heritage and killer fit and finish makes the Moto 3 a no brainer knock out.
---
We Also Recommend